Although the western United States is blessed with a plethora of stunning waterfalls, they are not all created equal. Some are hidden deep within lush forests; others a blue oasis set within an expansive desert. Whichever you prefer, these waterfall hikes are sure to blow your mind and leave you in awe.
Totekee Falls, Oregon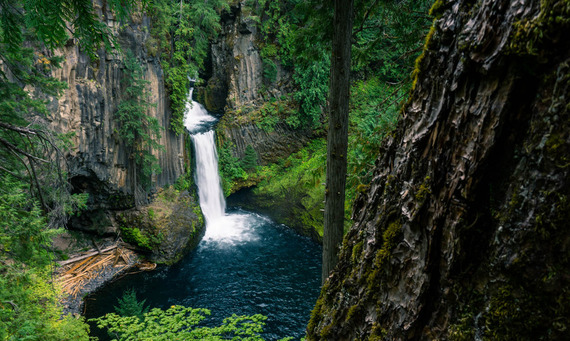 Toketee falls offers beautiful, constant flow all year round. It's a short 0.8 mile roundtrip hike with plenty of hidden gems along the river.
Toketee Falls is one of the most famous waterfalls in all of Oregon, renowned for the graceful columnar basalt formation framing the two-stepped falls. The North Umpqua River has carved a sinuous gorge out of the lava flow, resulting in a waterfall of 113 feet in height – a 28 foot upper tier which plunges into a pool flanked by a deep alcove, followed by an 85 foot plunge into a large pool. At the trailhead, the wooden 12 foot diameter Toketee Pipeline is passed, which diverts much of the volume of the North Umpqua River to a powerhouse downstream. This artificial taming of the river allows the waterfall to flow in an extremely consistent manor all year long.
To get down to the falls you will have to hop the fence near the lookout point. The right side is easier to get down with exposed roots and wire to hold onto. It's a little sketchy at first, but definitely worth it!
PACK LIST
Hiking shoes
Hiking clothes
Rain jacket (if you go down to the falls)
Camera
Water
Snacks
Inside Tip: If you're headed back toward Eugene or Portland, stop off at Brewer's Union Local 180 for some Sweet Potato fries and a cold one.